About Us
Slane Cycles was founded over 20 years ago by brothers Paul and Andy Slane. 
Paul is a former top international cyclist, ex Olympic rider and Irish Cycling Champion. Whilst competing in France for CSM Persan Bic in the 1990s he spent a considerable period of time testing prototype cycling components. Together with Andy, who has remarkable in depth knowledge of the best cycling products, you can rest assured that they and the rest of the (mad keen cycling) staff at Slane Cycles will be able to help you make the best equipment choices, whatever your chosen cycling discipline or fitness level.
Owned and managed by brothers Paul and Andy Slane, their shop in Belfast in Ireland has been in business for almost 20 years and they have been trading globally online for the past five years. They now have a large staff base, all mad keen cyclists, who are all there to help you go faster for less! Call or email us, no matter what the query and we will be more than pleased to try and help.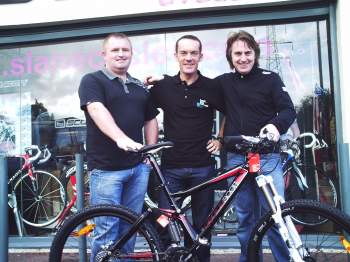 Andy and Paul pictured with British Mountain Bike and Cyclo Cross Champion Nick Craig!
Shop Tour